Like I promised in my last post, this time I'll tell you a little about how I spend my days. Since it's Monday today, I'll talk about what I did last week. I even kept some notes on a little post-it!
Monday
I actually started my Monday by doing some very useful tasks. I cleaned my desk and my outlook inbox. Even though I try to stay organised, my desk usually gets pretty messy. The picture below is a photo of my desk today, so my cleaning effort was futile. I'll try again soon.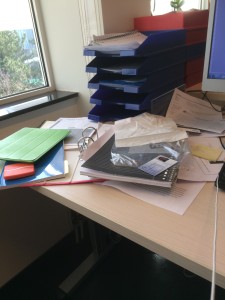 Monday is also teaching day at our institute. I wasn't teaching last week, but because I supervise the research projects of student-teachers, there were plenty of research plans for me to provide feedback on.
The third big thing I did on Monday was think about an elevator pitch about my research subject and why it is interesting. My supervisor asked a few of us to prepare a pitch for a presentation on Friday. We also spent some time discussing what the presentation would look like.   Read more