Docenten geven les met tablets en smartphones zoals zij altijd al deden. Afgelopen weekend bezocht ik de jaarlijkse IADIS mobile learning conference in Lissabon (http://mlearning-conf.org/). Een kleine onderzoeksconferentie met als focus mobiele technologie die het leren en onderwijzen ondersteunt. Veel presentaties zoals ruim 10 jaar geleden: mooie ict-projecten, opgezet door onderzoekers en ontwerpers, die vooral buiten het reguliere curriculum plaatsvinden. Veel betere techniek dan 10 jaar geleden, dat wel. Draadloos internet, tablets en smartphones zijn niet meer weg te denken uit de maatschappij, de school en het klasklokaal. Maar allemaal niet als onderdeel van de reguliere lespraktijk van docenten.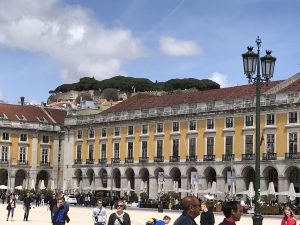 Doorbraak
Dat hoopte we met het onderzoek in het kader vaan Doorbraak ICT en onderwijs te doorbreken (https://leerling2020.nl/landelijk-onderzoek). In dit project hebben docenten uit het primair en voortgezet onderwijs experimentjes uitgevoerd in hun eigen lespraktijk om met ict gepersonaliseerd leren van leerlingen te faciliteren. Resultaten van dit onderzoek heb ik op de IADIS gepresenteerd. Maar wat wil het geval: overall gezien zien we van de interventies weinig of geen effecten op de prestaties, de motivatie en zelfregulering van leerlingen in het voortgezet onderwijs. Kort door de bocht:
docenten passen hun experimentjes aan het rooster, curriculum en structuur waarin zij (behoren te) functioneren en doen dus wat ze altijd al deden, maar nu met mobiele technologie en
het mobiele karakter van de ingezette smartphones, tablets en laptops wordt niet benut. Geen omgevingsonderwijs; leerlingen blijven in de klas en op school, op hun vaste plek. Het boek en de reader zijn vervangen door een tablet en de digitale leeromgeving.
Docentprofessionalisering?
Om dit te veranderen wordt vaak geroepen dat we meer moeten investeren in de professionele ontwikkeling van docenten. Eerlijk gezegd is dat ook een belangrijke suggestie die wij in het onderzoeksrapport hebben opgenomen. Maar het is de vraag of dit gaat helpen. En valt de docent wel wat te verwijten? Docenten passen hun projecten aan aan de reguliere methode en systematiek omdat zij hierop worden aangesproken. Er moet voldoende contacttijd zijn en alle geplande leerstof moet worden behandeld. Bovendien hebben docenten beperkt tijd hebben om andere dingen te doen dan lesgeven; niet-lestijd gaat op aan voor- en nawerk, administratieve klussen en overleggen met je collega's.
Het roer moet om
Willen we een doorbraak bereiken in onderwijs moet het systeem om: meer ruimte (tijd, veiligheid en kunde) om onderwijs te vernieuwen, met ict of op andere manieren. Het roer moet om. Als wij kunnen aantonen in meer dan 40 interventies met meer dan 6000 leerlingen uit ruim 30 scholen voor voortgezet onderwijs dat het overall weinig uitmaakte of en hoe docenten gepersonaliseerd leren met ict in hun onderwijs inzetten, is het tijd voor actie! En dat is niet het afschuiven op de kwaliteit van docenten. Goed gebruik van de ict die nu beschikbaar is en moderne ideeën over hoe je leerprocessen van alle leerlingen kunt ondersteunen vereisen een grotere ingreep in het systeem:
Weg met onderwijs in kleine schoolvakken, maar onderwijs in grotere vakdomeinen en multidisciplinaire thema's
Weg met individueel lesgeven, maar team teaching om ook ruimte te geven voor experimenten en leren van elkaar
Weg met het roosteren van al het onderwijs in contacturen, maar ruimte voor projectonderwijs, in en buiten de school, in de maatschappij en bedrijven
Geef docenten en leerlingen meer ruimte om onderwijs in te richten zoals zij dat willen.