The last two decades have been characterized by extensive growth in the use of technology in education, such as the application of virtual learning environments, simulation software, games and gamification, virtual experiments, visualization of complex models as well as tools that enable students and teachers to communicate and collaborate through email, electronic forums, and instant-messaging systems. Due to the measures to prevent the spread of COVID-19 schools around the world radically changed to teaching and learning at a distance. What can we learn from 20 years of research on technology-enhanced teaching? Are we exploring new practices or just consolidating our insights into teaching and learning? I present ten implications for distance teaching from home, based on a large body of knowledge on technology-enhanced teaching from pre-COVID-19 times.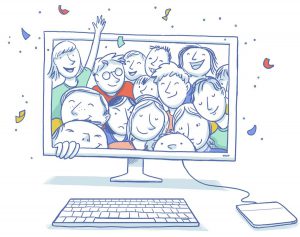 Explore new territories instead of consolidating land
Despite extensive growth in the use of technology in education, innovations in teaching with technology have entered the school sporadically: many teachers use the technology to do what they always have done and choose those activities that will help them accommodate their own perspectives on teaching and learning.
Transform distance teaching by exploring new pedagogies instead of transferring pedagogies from pre-COVID-19 times.
Focus on the learner, not on teaching
Students differ in their learning needs, preferences and motivation. Yet schools should provide a place for all students no matter their social, cultural, economic, language, and ability background. It is important to understand students' needs for autonomy and support to align teaching with what students need.
Mentor student learning, instead of transferring knowledge online.
Share control of learning activities with students
In online learning, with too much learner control, many students feel lost and do not know how to regulate their own learning path; with too much teacher control, many students are not motivated to their do work. Shared control means that students have the autonomy to decide their pace, sequencing, time allotment, practicing and reviewing within a larger framework set by the teacher.
The more intrinsically motivated students are, the more learner control can be established.
Teach students how to learn
Self-regulation appears to be a crucial aspect in online learning, but many students have difficulties with regulating their own learning activities. The development of self-regulation has not commonly been addressed. And if so, teachers are focused on how to prepare learning activities (planning and making choices) and less on self-regulation during and after learning.
Teach and provide feedback on how students can monitor, review and redirect their own learning processes.
Insert reflection
Adaptive software has been regularly used to support students in practicing with, for example, language and math skills. Yet learning does not happen so much through the extensive practice, but because students compare and refine information, and surface, criticize, restructure and test intuitive understanding. Students give 'meaning' to what they learn. In other words:
Encourage students' reflection on what they have done and achieved.
Strengthen active learning
Students should actively construct knowledge by integrating new information and experiences into what they have previously come to understand, revising and reinterpreting old knowledge in order to reconcile it with the new.
Acknowledge distance teaching as means of knowledge construction and discovery, rather than as means of passive acceptance of knowledge transfer.
Situate learning in real-life world of students
Learning occurs only when students process new information in a meaningful way that makes sense within their own frames of reference. Interested students challenge their existing knowledge and are more likely to develop conceptual frameworks that integrate prior knowledge and new information into understanding. In distance education from home, the link with the real-life world is even more apparent.
Connect to students and situate learning in their real-life world
Encourage social interaction
Constructing meaning comes from interacting with others – teachers, peers, friend, parents, family and casual acquaintances- to explain, defend, discuss, and assess ideas and challenge, question, and comprehend the ideas of others. Social interaction is a critical component of situated learning –students become involved in a learning community that embodies certain beliefs and behaviors to be acquired.
Encourage social interaction to construct meaning and bind students to a learning community
Constructively align teaching, assessment, materials and tools
Teaching, learning activities, assessments, materials and tools should be constructively aligned to reach the learning goals that are set. The more these are aligned, the more students target their learning activities to reach the learning goals.
Teaching, materials and tools should be aligned to support targeted learning activities of students.
Share with colleagues
Many evaluations of technology-enhanced teaching in school show that the more interventions are school-wide approaches, the more shared by teachers and the more effective these are. Students are similarly approached by all teachers and in all school subjects, which strengthens learning effects. Additionally, more effort will be put into the educational design of teaching approaches and practices.
Share your practices with colleagues and the more effective yours will be!