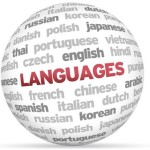 Last November a celebration was held to laud 25 years of bilingual education in the Netherlands. A month earlier a so-called "Manifest voor het behoud van het Nederlands" was published by four Dutch university professors making a plea to stop the development of English language university programmes. This "manifest" obtained some support in the Dutch media, for example in Volkskrant writer Aleid Truijens' piece "In het Engels haalt niemand zijn niveau". As bilingual and international education researchers and teacher educators at Iclon, we want to share with you 5 reasons why we believe monolingual universities are doomed to fail.

1. Economically irresponsible
An argument often made is that Dutch universities are promoting more English language Bachelor programmes to attract more foreign students. The authors of the manifesto make the point that most Dutch students eventually find employment in the Netherlands. They cease to point out that these jobs often necessitate communicating in another language, with others across the globe.

2. Fails to promote global and local understanding
We live in an increasingly globalized world and increasingly multi-cultural societies. To think of language only in terms speaking and writing and to make statements such as that if you don't have the correct "level" or "ability" of using a language you shouldn't use it, completely misses this point. Understanding and learning another language allows one to also understand the culture and behaviors of others better. It goes without saying that having the opportunity to interact with other students in another language is priceless, especially in such a formative period of one's life. Learning in another language allows you to become more critically aware, communicative and socially intelligent.

3. Against the trend of increasing bilingual education
In 2014 the Dutch celebrated 25 years of bilingual education. Having started in pre-university secondary education, bilingual education is now also spreading to other levels of secondary education and to primary schooling. It is hence not only students from abroad that higher education institutions will cease to attract if they only offer monolingual Bachelor programmes, but also this group of local, Dutch students.

4. Bad for universities
Almost all Master programmes at universities are offered in English or another "global" language. Students who miss out on the opportunity to study using these languages during their Bachelor studies will have difficulty adapting to these Master programmes. Moreover, there are only few Dutch language journals in which academics can publish.

5. Unintelligent
Research on bilingual education has shown that the ability to master multiple languages is good for the brain – bilingual secondary school students achieve the same or better results than their peers in monolingual education. Why would this not be true for higher education? The Dutch language ability of students will certainly not get any better by simply reverting to teaching in Dutch.

What should we be doing?
Instead of wasting our time on discussions about whether the primary language through which higher education is provided ought to be Dutch or English, we should embrace the concept of multilingualism. As is the case with bilingual education, this of course needs to be done well in order to be effective. On this front we believe there is much still to be done. What specifically will be the subject of our next blog.

Mandi Berry & Evelyn van Kampen

Please feel free to post a comment or start a discussion about this topic.
Share This Post!

0

0

0


0

0