These past few weeks since my last blogpost I have been busy writing, as you probably might have guessed, considering this blogpost is ALSO about writing (is there anything else I can talk about at the moment?!). It wasn't always as easy as I wanted to (I experienced enough terrifying moments), but last Friday I actually finished a new version of my paper 🙂 !!! Yay!
In order to get to that new version, I used a very productive approach and an useful app in addition to the three approaches I told you last time. Also I looked into another approach and some apps, in case the ones I chose weren't sufficient. These approaches and apps are:
Shut Up and Write (SUW)
1. Shut Up and Write
Let's start with the approach first: Shut Up and Write. Many of you probably have heard from it, or have experienced it. I can say honestly, I did this Friday before last with a colleague and it felt very satisfying. For those who do not know what SUW is; you really shut up and… yes, you guessed right, you write. This works best if you do it with someone else, who else to shut up to? 😉 You set a period of time (for example 25 or 30 minute) and after that period you discuss for about 5 minutes what you have written. Then, you start again with writing, and again discussing. It works best if you decide beforehand how often you do this. And, do not forget, if you are going to do this for half a day or a whole day (not just an hour), shower yourself a little. My colleague and I went out for a very delicious lunch and enjoyed it on a terrace in the sun. If there is no one around you to do this with, make sure you pay a visit to this twitter-account: @SUWTUK. They have a Shut Up and Write every 1st and 3rd Tuesday of the month, which everyone can join. The 5 minutes you usually use for discussion, you then use for tweeting. I haven't tried it, but really intend to in the near future.
You could also try to make your own SUW by using Strict Workflow. Unfortunately, this app is a Chrome Extension, so when you're using a different browser, you should seek different apps. I haven't been able to find an app that is pretty similar for other browsers, you should probably use combinations of two apps then. Because, Strict Workflow is a

Pomodoro Timer, but also has the option to block out certain websites during the time your Pomodoro is running. You can see in your browser how many minutes you got left. By the way, the default is 25 minutes and 5 minutes break, but while you are on your break (not when the Pomodoro is running) you can adjust this to the intervals most convenient for you. I don't use this app very often, but once in a while it comes in very handy!
2. Focuswriter and FORCEdraft
Next on the list are useful apps for writing. What works productive for me, is Focuswriter. Focuswriter is an application you install on your computer and works as a distraction-free environment to write in. It projects a simple desktop (you can adjust the color or a picture to you own taste) over your desktop and taskbar. The only thing you see, is what you see in the picture: the desktop, a white sheet and the cursor.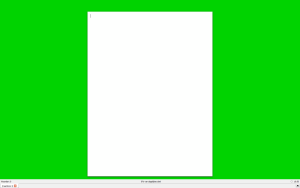 In this application, you can set a daily goal: whether you want to write a certain amount of words or for a certain amount of time. When you start the application, you can see in the bar you see below (which only pops up when you go with your mouse over the bottom of the screen) what percentage of your daily goal you've reached, there is also a bar where you can adjust some options (and exit the application), this pops up when you go with your mouse over the top of your screen. This app has really helped me. Especially when I wanted to start writing a certain section. When I want to start writing and spend a lot of time thinking what to write, I always find myself wandering to other website after a while. Because your task bar with the other screens you probably have open is not as close when using this app, I can stay focused on the task at hand.
But, in case you really need some discipline forced on you, you could use FORCEdraft. This app kind of works like Focuswriter (only in the free version you cannot adjust your desktop to the color/picture you like), but you are unable to close this app unless you've reached your goal (which is, again a certain amount of time or words). Be careful with choosing your goal, because really, there is no way (even not Ctrl+Alt+Del; I see you were thinking it, but believe me, but really it does NOT work!) to get out of this app without having reached your goal. OK, restarting your computer might work, but when you resolve to that option, well, then you maybe are a lost cause… (just kidding of course 😉 ). This app I've used once and also this one works. I find that having to take more steps than usual when wanting to drift off, when I'm in Focuswriter, is enough discipline for me. But who knows, having this app might be useful one day…
A last message I want to give to you is that once you decide on an approach or app, it does not have to be your one and only go-to app(roach). What I found very satisfying, is the alternation of using different approaches and apps, fitting your mood, or needs. Because, doing the same thing every day, becomes boring. Also, if you do not need apps that help you focus, it might still provide you some alternation in the tasks you have to do: a whole week of writing might become (even more) fun when you take a different approach every day!
Have you got any tips for me? Other approaches/apps? Let me know!
Did this post provide you with good ideas? Share it with me!

Good luck!!!