Op 20 april wordt tijdens het jaarlijkse conferentie van American Educational Research Association (AERA) een invited symposium gehouden over 'educational leadership' op initiatief van de Vereniging voor Onderwijs Research (VOR) divisie Beleid & Organisatie. Vier interessante papers worden besproken allemaal met een andere invalshoek op onderwijskundig leidershap; formeel leiderschap, informeel leiderschap, gericht op innovatie gericht op persoonlijke groei; Allemaal onderdelen van leiderschap.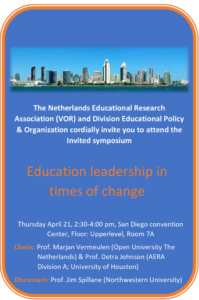 LOL en SKO
Onderwijskundig leiderschap staat steeds meer in de aandacht zowel in onderwijsonderzoek als bij het opleiden van docenten. Het concept lijkt iets te bevatten waar we als onderwijsonderzoekers, onderwijsadviseurs, en docent trainers hebben gemist of altijd al hebben gezocht. Om veranderingen in het onderwijs echt te laten slagen is leidershap nodig, en dat leidershap hoeft niet altijd direct gerelateerd te zijn aan formele leiderschapsposities. Evenzo is persoonlijk leiderschap nodig om te groeien en je eigen werkzaamheden te veranderen. De leergang Onderwijskundig leiderschap (LOL) is een expliciete uiting van het vormen van leiderschap in onderwijs. De Leergang wordt in Leiden aangeboden vanuit het Leiden-Delft-Erasmus verband. Het doel van de leergang is "het ontwikkelen van een brede en praktijkgerichte visie op onderwijs en onderwijsvernieuwing bij de deelnemers." Onderwijskundig leidershap begint kennelijk bij het inzicht hebben in je eigen visie op onderwijs en daarop reflecteren. Daarmee is het niet vreemd dat ook bij de Senior Kwalificatie Onderwijs (SKO) staat visievorming en onderwijsvernieuwing centraal. Vooral ook de invloed die de kandidaat heeft op collega's in en buiten het eigen instituut wordt gezien als een indicator voor senioriteit en leiderschap.
Conceptualiseren
De manier waarop wij 'leiderschap' conceptualiseren lijkt de belangrijkste factor die van invloed is op hoe wij onderwijsverandering en onze eigen groei ervaren. Effectief onderwijskundig leiderschap binnen ondersteunt en stimuleert onder andere samenwerking, collectief leren en het opbouwen van gedeelde referentiekaders binnen de organisatie. Het uitbreiden van ons begrip van leiderschapsvormen kan helpen om de voortdurende verandering in onderwijs te ondersteunen en te stimuleren. Daarmee is dit concept interessant om verder te verkennen in onderzoek naar didactiek en het leren van docenten.

In het symposium zullen door de sprekers verschillende vormen van leiderschap in onderwijs besproken worden, zoals transformationeel leiderschap, inclusief leiderschap, gedistribueerd leiderschap en gedeeld leiderschap. Ook zullen diverse contexten en onderwijsorganisatievormen langskomen. Welke vorm van leiderschap, welke organisatiecultuur, welke structuren en welk HR-beleid het meest geschikt zijn, hangt sterk af van de actoren, context en doel. In elke context zijn verschillende variabelen, zoals overtuigingen, attitudes, vaardigheden, en mogelijkheden van doorslaggevend belang in relatie tot welke vorm van leiderschap en welke leiderschapsstructuur gewenst is.
Teacher agency
Ik raad het iedereen aan die interesseert in onderwijsvernieuwing en docentontwikkeling om kennis te nemen van dit symposium. Teacher agency, leren van docenten, pedagogical content knowledge, kennisbasis van docenten; ik kan me bijna geen onderwerp voorstellen die besproken is in onze onderzoeksgroep, die niet op een of andere manier gerelateerd is aan 'leiderschap in onderwijs'.